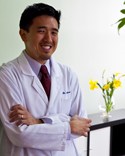 Dr. Michael Chang is an accredited Orthodontist. He focuses on serving patients in San Carlos and Belmont and all around the Peninsula of the Bay Area. Leading-edge medical and orthodontic technology is used to diagnose and treat both simple and more complicated orthodontic cases.
Dr. Chang completed his 7-year dental and orthodontic specialty education at the world renowned University of California, San Francisco, where he chose to cultivate his specialty in orthodontics. During Dr. Chang's tenure at UCSF he was honored with numerous awards including prestigious scholarships from the Bernard Osher Foundation, UCSF Alumni Association, and the San Francisco Dental Society for ethics and professionalism.
Dr. Chang and his family live in San Carlos and are committed to the community personally, philanthropically, and professionally. Please say hi if you see him or his family around town. Depending on the season, you'll probably catch him wearing a 49ers or Giants shirt. He's a diehard fan.