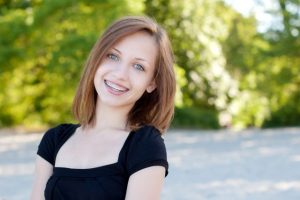 Many adolescents do not realize that there are many different options to get them a beautiful smile of which they can be proud. Here at Chang Orthodontics, we specialize in helping adolescents receive orthodontic treatment. Unfortunately, teeth do not straighten out with age, so now is the time so take care of them.
Orthodontic treatment can improve your appearance, self-esteem, and even oral health problems. Crooked teeth can cause tartar buildup as well as other diseases. Orthodontic treatment can help to prevent this.
Brushing your teeth can be difficult when your teeth do not line up correctly. This can lead to more cavities as well as decay. Orthodontic treatment will result not only in straight teeth but also an overall healthier mouth.
We will discuss various options with you so that you know exactly which treatment plan would be best for you. We want to make sure you feel comfortable with the cost as well as the time frame of treatment. If your insurance plan covers all or some of it, we are happy to work with them.
One more great feature about the orthodontic treatment we provide is that fewer follow-up appointments are required. This makes fitting appointments into busy schedules easier than ever.
Getting the smile you want that will last the rest of your life can happen. Please do not hesitate to call or text us at (650) 598-0888 to discuss any of these options. We want to give you a reason to smile!